January is resolution time for many, I'm no exception. Since second semester is fast approaching I've resolved to get ready for the end of the year. What!!!
This semester I've decided to attempt to get rid of 100 things by the end of the year. I've got to tell you that my classroom is pretty organized and neat. And I've seen many of your neat and organized classrooms when you post your pictures.
So what can I get rid of in my classroom and cabinets? My plan is to start with my most organized space. I'll really look at all the items in that area and get rid of things I'm not using. For example, I think that my guided reading area is pretty organized. It has to have everything at arms length and easily accessible. Just a quick look turned up several books that needed to be added to my classroom library. Now I didn't get rid of them but when I was putting the books away I found three books that no one will read because they are somewhat old. I'm sure no one has selected the books in a couple of years.
That's three items, only 97 more! I'll keep you posted on my progress.
The Fly Lady is a great resource for organization and staying on top of keeping things neat and tidy. Stop by her site and visit a little while, you'll be glad you did.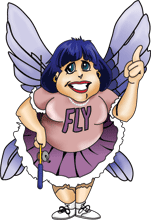 Tomorrow's Friday and you know what comes after Friday!!!